If you have a really good experience, whether buying a home or selling a property, you may want to find good gifts for realtors to express your gratitude. 
This blog showcases our top ten suggestions on the best thank-you gifts for realtors and agents in 2022. We know real estate agents extremely well. This list is full of gifts that they will actually appreciate. Read on if you want to impress your agent with your gift-giving skills.
You can also check out the best books for real estate agents. 
The #1 Thank-You Gift for Realtors
Want to know the one gift that every single real estate agent loves?
Referrals. 
Want to go even further? Offer to write them glowing reviews on whatever platforms they want. 
But I'm sure you want to get them something else because you're generous and like making people smile. But if you want to give your gift an extra special glow, tell them you'll refer and review them wherever you can.
On to the non-free thank you gift ideas. We've got you covered with our absolute best gift ideas that come from actual realtors. These products help send your message of gratitude and are the perfect buy whenever you close on your deal.
Move over Paul Allen. This is the business card of 2023, and it's cool enough to make Patrick Bateman dangerously jealous. 
Here's how it works. 
Your agent uploads all of their contact info and social media handles. Then they can simply tap almost any smartphone, which will redirect to a webpage with all of the information.
From there, the new connection can save everything to their phone with a click. 
It's a very cool power move that's sure to make everyone jealous. The Retrev card is perfect for networking and making a great impression on potential clients. It's also quite affordable.
Wide-Angle Smartphone Lens
Amazing real estate photography is essential to selling houses. Many agents hire professionals to complete the job, but there are situations where agents still need to take photos. 
The highly-portable smartphone lens allows realtors to transform their smartphone into a wide-angle camera, which is exactly what real estate photography needs.
Beyond that, it's great for recreational use as well. 
Solar-Powered Lights for Agent Yard Signs
There are a few reasons this is a spectacular idea that actual agents love.
It's a luxury they would like to have but wouldn't buy for themselves.
It's going to make them more money.
You don't have to worry about buying them something they already have. Any agent who does uses these could always use more. 
Plus they aren't that expensive, so you may want to buy them multiple sets. It's one of the best marketing gifts for agents.
Another excellent gift for aspiring realtors is a Laser Distance Measure. This measuring tool uses lasers to measure the distance between two points allowing you to compute the floor area, the size of a wall, and more.
If you're staging a home for sale and want to put in decorations or move the furniture around, having a handy measuring tool in your pocket will be a lifesaver. Keeping this in your car's glove box will save you some headache whenever you need it, which in the case of most realtors, is a lot of the time.
There is no gold-standard brand for a Laser Distance Measure. You can pretty much buy the cheapest model, and it should do the trick in most cases. The best-reviewed and most purchased Laser Measurement Tool on Amazon is the DTAPE 328. This comes in two models priced at $30 for the 165-feet max distance model and $39 for the 328-feet model.
Whether you're working with a single realtor or a brokerage team, a gift basket for realtors is a fantastic gesture to send to the office after closing a deal.
Most gift baskets with snacks cost around $25 to $50 without shipping. Most of the time, you can't go wrong with sending cookies and chocolates as thanks to your realtor. You can try out this Thank You gift basket from Zelica, filled with delicious cookies and a Thank-you card, all packaged in a tin container.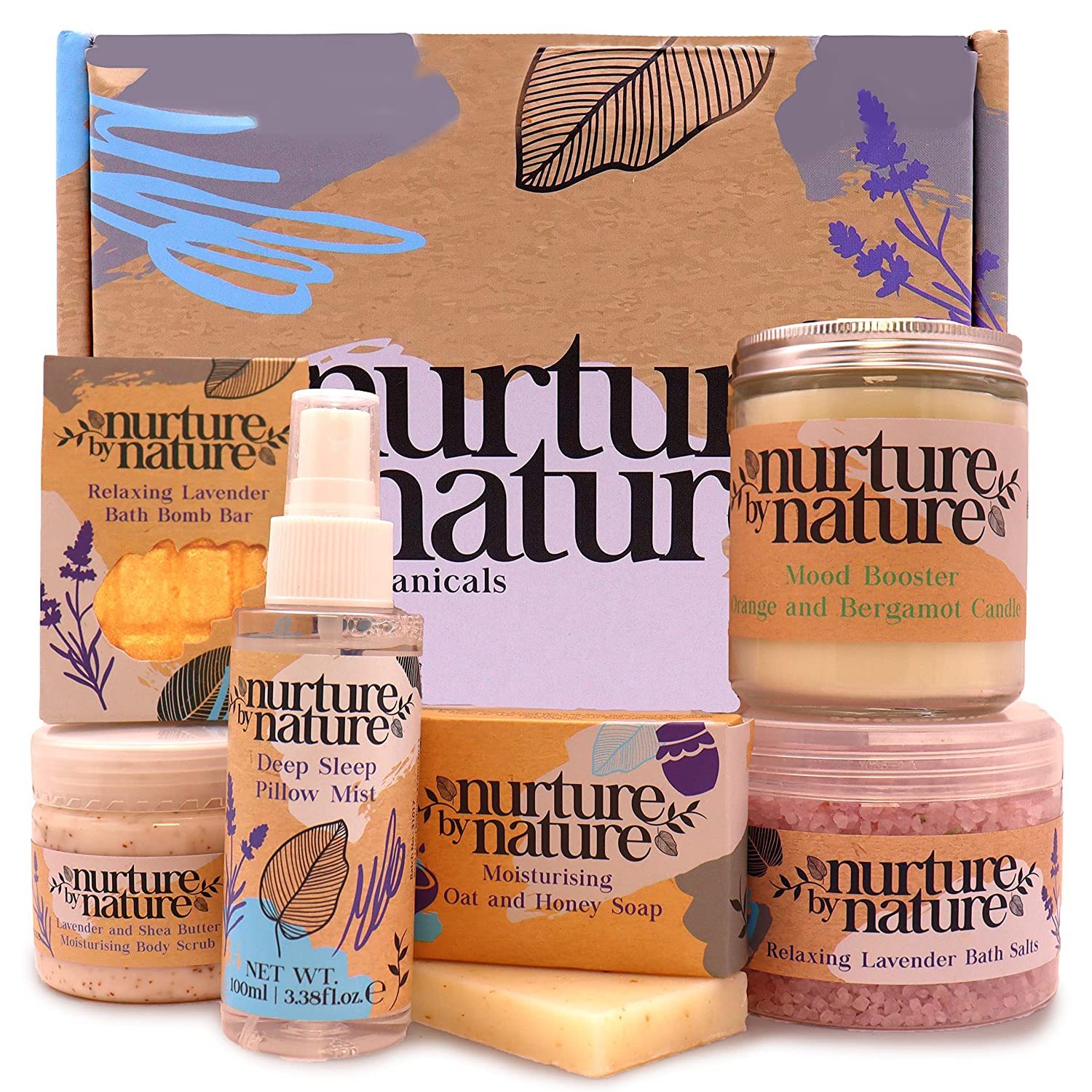 When it comes to sending Thank-you Gifts, candles are probably my favorite. You can store them for a long time, and they're always useful whenever you decide to light them.
It's also unique for a Thank-you gift compared to your typical card or gift basket. You can also buy a Thank-you Candle Bundle that you can ship directly to your realtor, which is perfect if you're both busy and don't have the time to meet up.
I found a lovely gift box full of organic scent products that are sure to delight your realtor.
The candle also comes in a reusable box and resealable container, allowing you to reuse the candle multiple times.
If you have other gift suggestions that you think would be great on this list, do leave a comment down below to let us know.
I found this Ember Temperature Control Smart Mug on Amazon that would be a great gift you can give to your realtor as a thank you for their services. This tumbler is around $125, but there are other mugs and tumblers that you can find there, ranging from about $15 to $40.
That said, you have to admit the Ember Smart Mug looks pretty sexy. 
If you're working with a new realtor, giving them useful gifts may be an excellent way to say thanks. Being in the industry for a short time, they may not have all the tools that an experienced realtor may have and will surely appreciate the suggestions we have below.
Arguably one of the most important tools for a realtor is their trusty Power Bank. In this digital age, doing business without your phone is almost impossible.
All your important files, contact info, and messages are in there. As a realtor, you're always outside, meeting clients, showing homes, running errands, and more. With how busy you can get, running out of battery is almost a given.
A Power Bank lets you charge your devices on the road and is useful, especially when you don't have access to electricity.
Your device may have a preference on which Power Bank to use but generally, most function the same way and are just a large battery you can plug your devices into.
You can easily buy one on any of the large eCommerce websites or go to your closest mall or gadget store to pick one up.
A Portable Speaker is an excellent gadget to play music on instead of using the built-in speaker on your phone. You'll usually get better sound quality and can cover a larger area.
Using a portable speaker also helps prevent damage to your built-in phone speaker, especially since repairing those tends to be a bit more expensive.
If you're doing an Open House and would like a bit of ambiance music in the background, this speaker is perfect for that. I recommend buying one with Bluetooth integration; that way, you can control what's being played on this speaker using your phone.
The price range for Portable Speaker varies wildly depending on how large it is and the brand you're getting.
Although I haven't gone into too much research on which Portable Speaker is the best, the Tribit StormBox Micro 2 has appeared on several Top Bluetooth Speaker Review Posts and would most likely work great as a gift.
The $80 price tag is relatively affordable, but more expensive models are going as high as $1,000 if you want something bigger.
Expensive Gifts for Real Estate Agents
If you've been working with a realtor multiple times or were able to get tremendous value from their services, you may want to spend a bit extra on your gift. Below are three great suggestions to consider if you're looking for an expensive gift for a realtor.
If you're looking to find unique gifts for realtors, then a drone might be the thing for you. Check out our previous blog, 5 Best Drones for Real Estate Photography in 2022 (+ Best Deals), to get our top drone suggestions today.
Our top suggestion on that post is the DJI Mini 2, the previous model of the DJI Mini series; this drone offers the most value for your money. Priced between $450 – $590, the drone can record 4K quality videos on its 12 Megapixel camera.
With the holiday season just around the corner, you may be looking for the Perfect Christmas Gifts for Realtors.
A laptop may be the perfect surprise for your realtor, and if you're considering buying one, I recommend checking out our 15 Best PCs, Laptops & Tablets for Realtors in 2022 (+ Best Deals) blog post. We offer our insight on some amazing devices that real estate professionals are sure to appreciate.
If you're planning on gifting a laptop to your realtor, you'll probably want to consider which Operating System they use.
If they're an Apple User, the Apple 13in MacBook Pro ($1200) might be a good deal.
If they prefer to use Windows, our recommendation would be the ASUS VivoBook F512. Depending on your location, it should be around the $400 – 600 price range.
A camera is a powerful marketing tool that allows a realtor to produce high-quality images for a property they plan to sell. Most modern digital cameras can also reliably be used to record HD videos that can be used to create engaging virtual tours.
If you're looking for a great gift for your realtor that you'll know they'll use consistently, you can't go wrong with a new camera.
I've researched the best, pro-recommended cameras for real estate photography in-depth.
But you can check out the link below to see details on the Fujifilm X-S10. It's a great option to split the difference between professional and recreation use. Plus it's slim and sleek.
The Fujifilm X-S10 Mirrorless Camera Body is a $1,000 camera with a 26.1-megapixel camera capable of capturing HD images and recording 2160p videos.
You can also purchase additional lenses for the camera, allowing you to capture different picture types.
What gifts have you received or given to your realtor? Was there a particular gift that was quite memorable? Leave a comment down below if you have a gift suggestion that you would like to add to this list.
| Name | Price |
| --- | --- |
| Thank You Card | $10 – $15 |
| Laser Distance Measure | $30 – $39 |
| Gift Baskets | $25 – $50 |
| Candles | $32.99 |
| Self-Warming Coffee Mug | $15 – $125 |
| Power Bank | $50 – $150 |
| Portable Speaker | $105.95 |
| DJI Mini 2 | $450 – $590 |
| Laptop | $400 – $1200 |
| Camera | 1,000 |
Frequently Asked Question
Thanks again for reading through our Ten Truly AMAZING Thank-You Gifts For Realtors & Agents in 2022 post. I hope you learned a lot from our suggestions here.
If you want to learn more about our company and the services we provide for realtors and brokers, please check out our Real Estate SEO Consulting service page. Feel free to reach out to us directly if you have any questions.