🏆 Best Custom Real Estate Websites (No CRM)
This 2023 Agent Image review breaks down the quality of their custom branded websites, including a video review, Agent Image pricing, pros/cons, who should and shouldn't use them, Agent Image example websites, and helpful client testimonials. 
Disclaimer: I worked for AI from 2007 to 2010, which gives me special insight into the company. 
Agent Image is a leader among providers of custom real estate websites, along with Luxury Presence and Dakno. Other companies that are focusing more on branded websites, especially for luxury real estate, include Real Estate Webmasters and InboundREM. 
Their pricing plans are quite standard, although the monthly fee is a low $99. That's because they do not provide an integrated CRM. You will have to set up and manage the CRM in-house, which can be a pro or con depending on your needs. 
Another unique element of Agent Image is they allow you to own your website. Except for InboundREM, other companies will retain ownership, and you will pay monthly licensing fees. 
Overall, Agent Image is a strong choice for a branded real estate website. They build aesthetic and intuitive WordPress sites, have good client reviews, and an established presence among website providers. 
However, if you would like to put in a little more effort, it may be worthwhile to hire a freelancer instead. They can provide a similar website for less money.  
1. Website Ownership
Along with InboundREM, this is one of the few real estate website providers that allows you to own your content. At InboundREM, we believe this is how it should be.
Other companies get away with contracts that force you to lease the site you paid to build because you'll still get a decent enough ROI. However, it also locks you into staying with that company. Even if you experience terrible customer service, you've already invested perhaps $10,000 or more into the build, not to mention the hours sunk into working with the company. 
In the case of Agent Image, it makes particular sense to give clients ownership because they compete against freelancers who can build a custom site at a fraction of the cost.
If you hire a freelancer, of course you will also own your site. Then you will have to integrate a CRM, but with Agent Image, you have to do that anyway. They also offer PPC, blogging, and more, but these are not their fortes.  
2. Proven Branded Websites
Agent Image has been providing beautiful, well-branded websites for a long time. They have satisfied high-profile clients like Joyce Rey. We do a full review of the three Agent Image website tiers (Template, Semi-Custom, and Custom) below. 
3. Low Monthly Maintenance Costs
At $99/month, Agent Image has the lowest monthly pricing for a custom WordPress website. Of course, you'll have to pay for a CRM yourself. The monthly fee is for hosting, customer service, and IDX. 
That's quite a good deal. Great hosting costs about $15/month, and the basic ihomefinder IDX (used by Agent Image) costs $49/month. Plus you'll get 3 hours of customer support and a quarterly consultation call with a marketing expert. Other companies typically charge a higher markup for those services. 
Again, the two exceptions are InboundREM and hiring a freelancer. InboundREM charges $79/month for a significantly better IDX, and all other monthly costs go directly to lead generation packages. 
If you hire a freelancer, you'll have to pay for these features yourself, but the price will be comparable to Agent Image's monthly costs. 
1. Upront Expenses
Though Agent Image website pricing is very similar to their competitors, the upfront costs will deter some agents, especially new agents.
That said, if you need a custom website, you should definitely consider Agent Image because you can migrate your content to a different company with expertise in lead generation. In that way, they might be considered much less expensive than their competitors because you're not at risk of losing your initial investment. 
Again, other options for building a branded website that you own include InboundREM and hiring a freelancer. For advice about choosing between these options, read the section below called "Who Should Keep Looking".
2. No Integrated CRM
As with the expense, this con comes with a redeeming caveat. Some real estate agencies and brokerages want to choose their CRM. Perhaps the team has already been educated on a particular CRM, and you don't want to reteach a new CRM, potentially with fewer features. 
3. Mediocre IDX
Agent Image websites use the iHomefinder IDX, which simply isn't top-tier. If you want to hire a freelancer, consider using the premium Showcase IDX plugin. It's absolutely worth it to pay for a premium top-tier IDX.
Alternatively, you can hire a company like Sierra Interactive to build your site and provide an amazing IDX.
4. Client Happiness
While Agent Images receives plenty of extremely good reviews from satisfied customers, they also get a decent amount of very negative client reviews. Across all review platforms, they score about 3.9/5 stars for service. 
Unfortunately, this is quite common among real estate website builders. If you want an absolutely headache-free experience, consider BoomTown or InboundREM. Both companies average 5/5 stars from at least 50 online reviews across multiple platforms. 
Who Should Use Agent Image
1. Teams who have their own plan and expertise for lead generation and nurturing
Of course, there are companies that provide highly-customizable websites in addition to extensive lead generation features. Why might you choose Agent Image anyway? 
First, you'll pay low monthly fees. For example, Real Estate Webmasters will probably charge you $500/month in licensing fees instead of Agent Image's $99/month.
Second, you're free to choose your own CRM. Maybe you already have a great CRM that your team knows how to use. You may want to upgrade your website without committing to a pre-integrated CRM.
2. Teams who want to own their website
Agent Image is one of the very few companies that allows you to own your website. That means no licensing fees, the ability to change website providers, and ownership over a valuable product. 
3. Teams who have a clear, established brand
It's problematic to have a custom website built before you have a deep understanding of your brand. Branding goes beyond graphic design and font choices. It's about your unique values and selling points. It includes your niche and client profiles. 
Real estate branding crystalizes over time. Teams that haven't evolved their brand into something that fits like a glove and speaks to their client base may want to wait until they sink $5000 or much more into a website. You don't want to continually pay to rebrand your website every year.
In my opinion, Agent Image serves a very specific kind of client very well. First, you should be an agency or brokerage willing to pay significant upfront costs for a premium branded website, but wants low monthly costs.
You should have someone on your team who's tech-savvy and capable of choosing the best CRM for your needs and educating your team. In addition, you should have a digital marketing expert who can optimize your SEO, PPC, and other lead generation efforts. 
Alternatively, you can hire companies or freelancers to manage your lead generation efforts.If you'd like personalized advice on great real estate SEO content writers and digital marketing experts, feel free to email my Head of Content and Branding at ben@inboundrem.com. He will be happy to point you in the right direction.
It can be extremely effective and profitable to take the basic, solid foundation that Agent Image provides and create your own tech stack. It will take significant research, and you'll have to keep tabs on the wide range of software, services, and companies you've hired.
However, you'll save money by avoiding the markup and licensing fees from all-around real estate website platforms while retaining the freedom to choose technology that suits you best.
Plus, you'll still get the customer service required for diverse maintenance issues like bugs. You also avoid the potential hassles of finding and working with a freelancer.
1. Teams who want an all-in-one lead generation machine
Of course, it is possible to turn an Agent Image website into a lead generation powerhouse, but only if you have an in-house expert in digital marketing. Alternatively, you can outsource these efforts to other companies or freelancers.
2. New agents or inexperienced agents
Agent Image websites are expensive, and it's rare that inexperienced agents have the client base to pay for a customized website. Even if you do have the budget, it may be smarter to hire a company better suited to the needs of a burgeoning brand.
3. Those who want an integrated CRM
Clients have to choose, integrate, and maintain their CRM, including educating their teams on how to use it.
Schedule a meeting with me
Let's chat about how an SEO-focused website that YOU OWN can generate high-quality leads and exceptional long-term ROI. If my services aren't the best move for you, I'll gladly point you in the right direction
Template Setup – $2000+

Semi-Custom Setup – $2500-$8500

Custom Setup:$10K-$100K

Service Fee: $99/month
Lighter Real Estate Content
Agent Image Reviews and Client Testimonials (2023)
Agent Image enjoys strong but not amazing average reviews across websites like Yelp and Trustlink. 
Typical Positive Client Testimonials
Typical Negative Client Testimonials
FREE eBook - Expert's Guide to Real Estate Blogging
Download this 87-page PDF eBook for dozens of industry SEO secrets, real life case studies of top-performing real estate blogs, and step-by-step guides to dominating your local market.
Agent Image Website Examples: Template vs. Semi-Custom vs. Custom
From 2000-2023, Agent Image has produced three types of real estate websites. Custom websites, semi-custom websites and templated websites. For this review, I'll be covering some of the services that Agent Image offers. I have an in-depth comparison posted on this website since Agent Image has made our list of companies making the best real estate websites since 2017. You can see that 2023 real estate website providers comparison by clicking the link below.

Top 10 companies that design real estate websites. 
Primarily they have three website products. Custom websites that are not technically full custom websites that they market under the brand name "Imagine Studios". Semi-Custom websites called the same. Agent Pro websites which is their brand name for templated websites.
For this post, I will be taking a more visual approach. I will be listing a screen capture of each website type.
Agent Pro – Template Website Built on Wordpress
Agent Pro's range from $1500-$2100 
Template website = A pre-designed already structured website. The basic sitemap (menu options) are already in place. The client can add branding, add elements in pre-determined locations such as images on the home page, logos, disclaimers or brokerage required legalese. I've annotated the screenshot below highlighting some of the predetermined options and design elements.
Semi-Custom – Template Website with a Custom Homepage
Semi-Customs range from $2500-$3500
Semi-Custom Websites = A custom homepage and templated interior pages. The custom homepage comes with a set number of revisions and the interior pages can be customized with fonts and certain layout alterations. Branding and disclaimers can be added.
Imagine Studios – Custom Homepage with Customized Interior Pages
Imagine Studios Websites Range from $5000-$10,000
Imagine Studios Websites = Custom Home Page with a much more defined interior page layout. Multiple options for agent bios, property layouts, plus additional pages not available as Agent Image's other website products. 
This is a great example of an interior page built by Agent Image and Content produced by the client.[/caption3
Do I Need a Custom Real Estate Website?
The key difference between a template website and a custom website is branding. We cover this topic in-depth in our article, 5 Real Estate Branding Experts Share Golden Advice. 
Let's compare a high-end custom branded website with a simple template website. 
Check out the details of the customization on Joyce Rey's website. Everything is designed with Joyce's patented black-white branding.
The social media icons are sleek and white. There's a sense of spaciousness throughout the site, like with the full page menu and large property photos.
The graphic design is geometrically thematic, based around squares and long, thin rectangles. It's the details, details, details that make exploring her website feel like walking through the rooms of a well-appointed luxury home.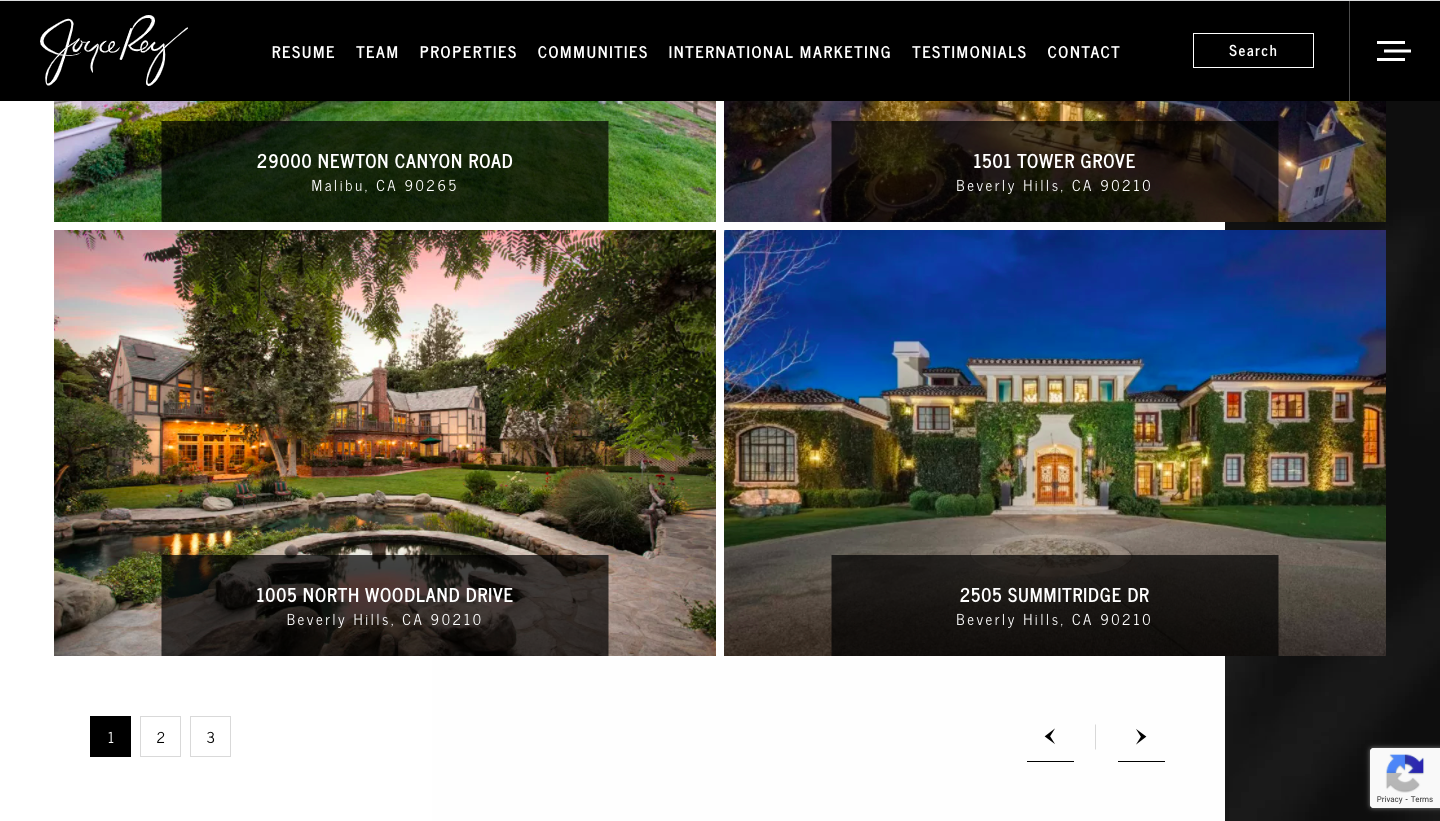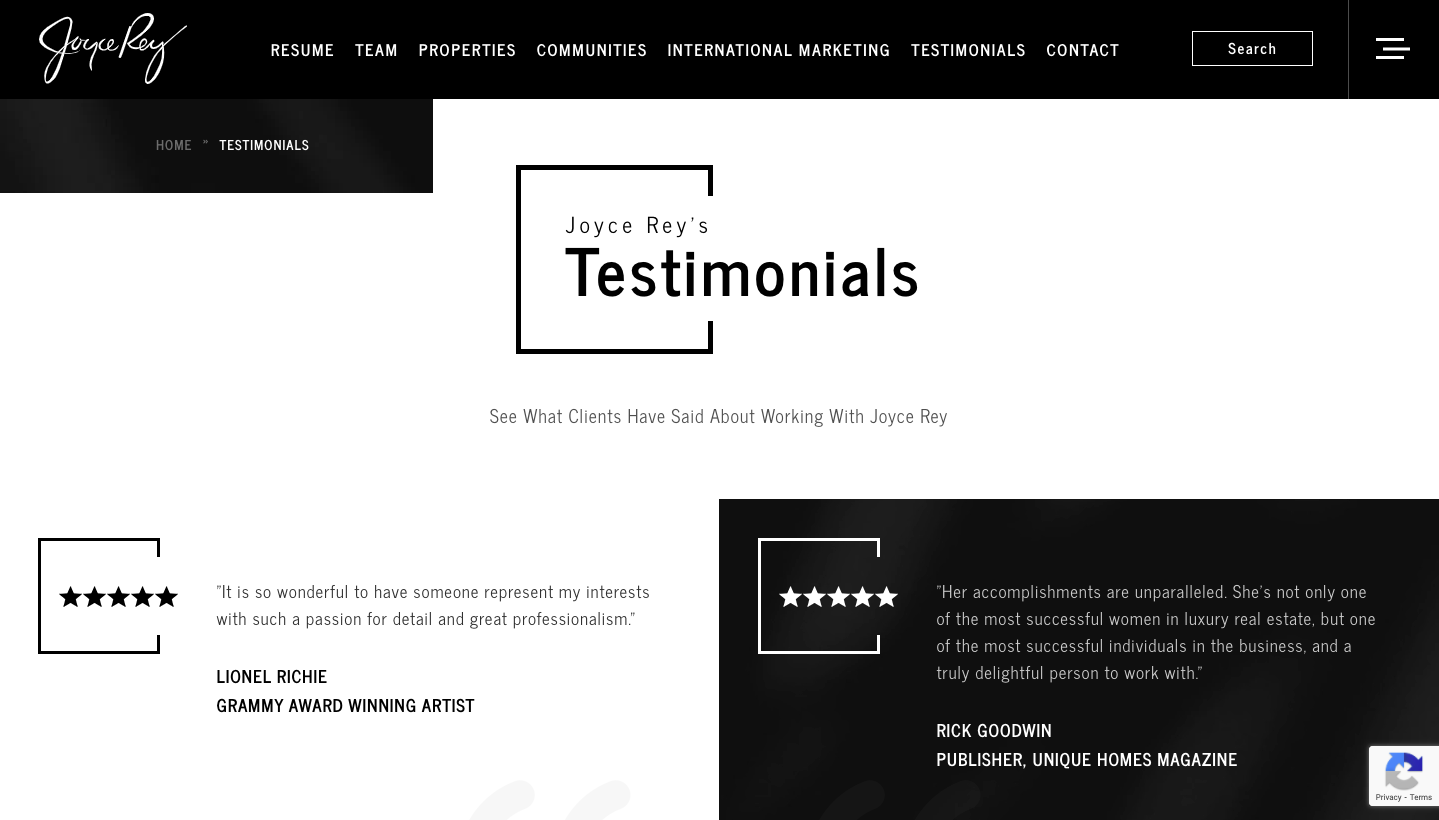 Compare that to the Easy Agent Pro template website. It feels like walking through a cookie-cutter suburban home because there isn't any branding or personality infused in the layout. That's perfectly fine for plenty of agent websites, especially since it cost $199 at most.
What I'm trying to show you is the difference between a customized branding website and a DIY template website. You can bet that Joyce Rey invested a lot into her website, but you can also bet that it has paid off tenfold.
Schedule a meeting with me
Let's chat about how an SEO-focused website that YOU OWN can generate high-quality leads and exceptional long-term ROI. If my services aren't the best move for you, I'll gladly point you in the right direction